fraud alert Jackson Linder ( solved )
Just an update – appears the buyer was legit it was WU that cancelled the payment for suspected fraud. Seems to be happenning with all transfers over $1000. He got his money back at WU location and paid me back by moneygram.
A very honest guy all around.
Warning to anyone selling on LBC do not sell to the user by the name of Jackson Linder – lives in Iowa City (I have his exact address)
He scammed me out of $1484 USD by Western Union. Anyone with info on how I can go about getting my money back it would be much appreciated. His username is greenway22 (/accounts/profile/greenway22/) Although I am sure he is going to get a new one and here is a link to his profile page I think
Anyone who can help me recover my funds back or at least get some retribution on this scammer it would be much appreciated
how does he scam you with WU?

He had a good rating (100% feedback with 30+ trades confirmed) so I released early before picking up the cash on good faith,

When i got to the WU I was told the buyer reversed the payment claiming the buyer was a victim of fraud. I have all his details. His address and everything
it was my fault for trusting him – have lost close to $3000 due to scammers just cant trust anyone anymore
Localbitcoins chat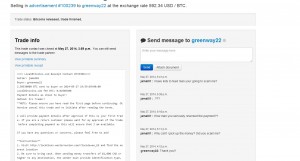 some photo